To honor the 2018 promoting B.A.S.S. class, Samari is the first recipient of the Grit Scholarship Award.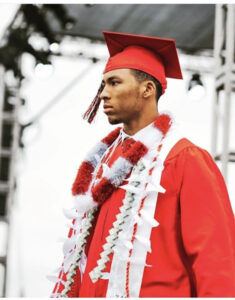 The Grit Scholarship Award is a $1,000 scholarship sponsored by the non-profit organization, Bass Education Inc in Corona, CA. It is to honor and recognize a former BASS student-athlete who has gone on to demonstrate passion, excellence, effort, and perseverance through their high school years, after attending the Boost Alternative School for Student-Athletes.
A high achiever at heart, Samari has always been the type of student-athlete to put 100% into every activity he participates in. While at B.A.S.S. Samari was the type of student who was always willing to compete with himself. This constant strive to be his best, learn from mistakes and figure out ways to overcome them, is why we are honoring Samari today and is the very definition of GRIT.
Samari represents the B.A.S.S. inaugural class of 2018 where he graduated with a 4.05 GPA.  He attended Mater Dei High School where he lettered in both Lacrosse and football, while graduating with a 4.06 GPA and 4 years of high honors. Samari will be attending Brown university in the fall of 2022 where he would like to pursue a career as a financial analyst.
Congratulations Samari, we can never say for certain what the future holds, but what we do know is that you'll need to keep learning, keep growing, and more importantly stay gritty.