Ray Bass
Level 1 & 2 Coach Bommarito Performance – CSCS / USAW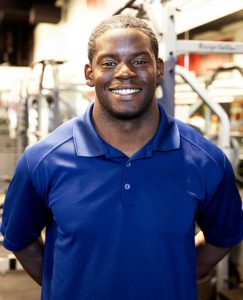 My name is Coach Ray Bass, and I'm the head performance coach and owner of Boost Training.  I have a passion for all sports and was an athlete growing up here in Corona, Ca. I graduated from Centennial High School in Corona, I played football, volleyball, and ran track. After high school I attended San Diego State University on a full ride football scholarship where I graduated with a degree in Social Science.
In 2011, my wife and
I started Boost Training which began with our "4-Quarters" program.  A Saturday and Sunday morning speed and agility program that consisted of plyometrics, speed training, agility, and conditioning. I was also the head strength and conditioning coach for Corona High Football (1 year), Corona Centennial Football (3 years), and the head speed coach for the Servite Friars football program (1 year).  We opened our first Boost Performance Center in 2016, and upgraded facilities in Aug of 2019 to our current location. Bringing knowledgeable coaching and training methods to youth athletes in the community over the last 10 years has been a privilege. Some organizations I personally, and my organization has been able to service is as follows:
Centennial Husky Football, Servite Friars Football, Corona Panthers Football, Mililani Trojans Football, Santiago Men's LAX, Arrowhead Christian Academy Football, Heritage Christian Warriors Football, Laulima Girls Soccer, Legends Soccer (Girls), Centennial Huskies Basketball, Notre Dame (Riverside) Football, Brian Rios Baseball, Corona Panthers Baseball Academy, Corona High Baseball… And countless other athletes across the sports spectrum.
Certification:
CSCS
Level 1 & 2 Coach Bommarito Performance
USAW
Years in Industry: 10
Areas of Focus:
Olympic Weightlifting
Online Coaching
Background
Personal Trainer Specific Information
Years of Experience: 10 yrs
Preferred Client Type: Youth Athletes (Ages 10-18)
Client Training Locations: Boost Performance Center, 500 Harrington Street Unit C1, Corona, CA 92880
Average Clients Weekly: 20+